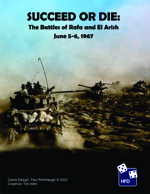 SUCCEED OR DIE
The Battles for Rafa and El Arish
June 5-6, 1967


Game Design: Paul Rohrbagh
Graphics Design: Tim Allen

Two 11" x 17" map sections | 120 single-sided unit counters | One rule book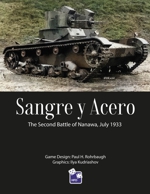 SANRE Y ACERO
The Second Battle of Nanawa
April, 1933

Game Design: Paul Rohrbagh
Graphics Design: Ilya Kudriashov

Two 11" x 17" map sections | 240 single-sided unit counters | One rule book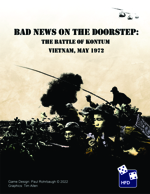 BAD NEWS ON THE DOORSTEP
Battle of Kontum
May, 1972


Game Design: Paul Rohrbagh
Graphics Design: Tim Allen

Two 11" x 17" maps | 54 double-sided unit counters | One rule book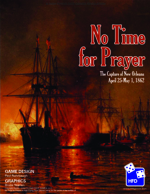 NO TIME FOR PRAYER
The Capture of New Orleans
April 25- May 1, 1862


Game Design: Mark H. Sheppard
Graphics Design: Bruce Yearian

Two 11" x 14" maps | 1 Player Aid Cards | One rules book | 142 single sided unit counters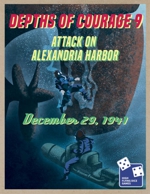 DEPTHS OF COURAGE
Raid on Alexandria Harbor

Game Design: Paul Rohrbagh
Graphics Design: Dariusz Buraczewski

One 11" x 17" map | 20 double-sided unit counters | One rule book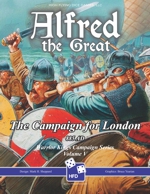 THE CAMAPIGN FOR LONDON
Warrior Kings Campaign Series
Volume V

Game Design: Mark H. Sheppard
Graphics Design: Bruce Yearian

One 11" x 17" map | one 8.5" x 11" map | 3 Player Aid Cards | One rules book | 247 single sided unit counters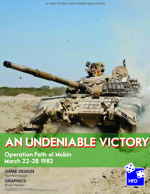 AN UNDENIABLE VICTORY

Operation Fath-ol-Mobin
March 22-28, 1982


Professional Edition

Game Design: Paul Rohrbaugh
Graphics Design: Bruce Yearian

One 17" x 22" map | 280 double sided diecut unit counters and markers | One Player Aid Card | One Rule Book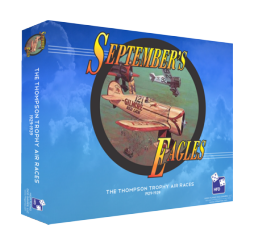 SEPTEMBER'S EAGLES
The Thopmson Trophy Races
1929-1939


Professional Edition
Game Design: Paul Rohrbaugh
Graphics Design: Bruce Yearian
One
, 24" x 36" race map | 36 die cut, double sided planes and markers | Four, Player Sheets | One, 33 card Pilot Deck | One, 36 card Plane Deck | One, 54 card Action and Event Deck | One, 12 page Racing Program with scenarios | One, 18 page rules booklet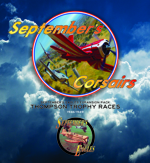 SEPTEMBER'S CORSAIRS
The Thompson Trophy Races
1946-1949

Game Design: Paul Rohrbaugh
Graphics Design: Bruce Yearian

15 Pilot Cards |17 Plane Cards | One Rule Book
Ownership of September's Eagles
is required for play
PRICE CHANGE!

Christmas in Hell has its priced changed to $20.95. The web page may be updated soon.


NEW GAME CATEGORY
:

A new category has been added: Solitaire Games for those who want to quickly search for those types of games.


Price Changes (7/1/20):
Beginning on July 1st, prices for several games have changed. The new order from reflects these prices however, not all webpages may not have these price changes displayed yet. In order to clear up any confusion, all games listed as $7.95 are now $8.95. Some prices for our Professional Series have changed as well.
Also, all card sets listed as $8 are now $9 and games with double deck card sets are now $15.


Ordering:

The order form has been updated and is RECOMMEDED. Click the

ORDER Image

on any webpage to order your games!



(with price changes as well) You can still order games by e-mailing us at: orders@hfdgames.com. I expect all webpages to be updated by the end of August at the latest. Be sure to order your games from the gray webpages currently as all others have not yet been updated.