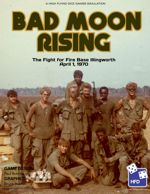 BAD MOON RISING
Battle of Firebase Illingworth
April 1, 1970

The 1st Air Cavalry Division's "in country" reputation was a relatively fortunate one. It had not suffered particularly horrendous losses since its battles in the Ia Drang valley years before. Their luck ran out in March when Charlie Company was caught in a large scale ambush set up by the NVA's 9th Division's 272nd Infantry Regiment. Alpha Troop of the 11th Armored Cavalry, after driving off the NVA and rescuing Charlie Company, the combined US force made it back to Fire Base Illingworth, named for one of the heroes of an earlier battle fought by the 1st Air Cavalry.
The survivors of Alpha Troop and Charlie Companies thought they had reached a place of refuge where they could rest, recuperate, and train their newly arrived replacements. However, the NVA saw their opportunity to exact revenge upon the Americans grow with each passing day Fire Base Illingworth remained in place. Little did they know, that those who fought on March 26th had leapt from the frying pan directly into the fire that exploded all around them at 0214 on April Fool's Day, 1970.
Game contents:


11" x 17" map | 140 die cut unit counters and markers | One Player Aid Card | One, 8-page rule book

Click the cover image to learn more!
---
HIGH FLYING DICE GAMES SUPPORTS CONSIMWORLD!
High Flying Dice Games has been a proud supporter of Consimworld for several years by offering a free game to Gold Level supporters. We are doing so again this year! Visit Consimworld.com to learn more!


Diamond in the Rough


Battle of Fort Driant


2016 Consimworld Donation Drive Gold Level


Head Honcho
Jet Combat over the Yalu


2015

Consimworld Donation Drive Gold Level



What Went Wrong
The Battle of Ap Bac
January 2, 1963
2014 Consimworld Donation Drive Gold Level


Death Before Dishonor
The Battle of Santiago Bay
July 3, 1898
2013

Consimworld Donation Drive Gold Level





Battle Royale




The First Silesian War




2012

Consimworld Donation Drive Gold Level
Copies Available!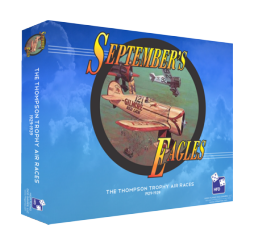 September's Eagles
The first Thompson Trophy contest was a six lap race about a course marked by three pylons. As planes became increasingly more powerful and fast, and the numbers of attendees grew by thousands each year, the length and challenge of the race also increased. Nearly each year the number of pylons and size of the race course, as well as the number of laps, were increased. The risk and toll on planes and pilots also rose. From the very first in Cleveland, air racing was marked as the most dangerous of all sports.

September's Eagles recreates the excitement of the Golden Age of Air Racing. The game is for 2-4 players with an Action Card Deck using interactive play to fly the airplanes and wreak havoc among the other players.

Game contents:
54 card Action Deck | 33 Pilot Cards | 36 Plane Cards | 22" x 34" racing map | 36 Plane tokens and various game markers | 16 page Racing Program | 20 page illustrated Rule Book | 4 Player Mats
---


Have a question about the games or ordering? We are right here to answer any of your questions! Send us an email at support@hfdgames.com and we'll be happy to answer them all.