NOW RELEASED!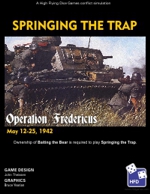 SPRINGING THE TRAP
Operation Fredericus
May 12-25, 1942
On 12 May, the Russians struck first. After an hour of artillery bombardment began, the ground offensive began, meeting tough German defense from the start. By the end of the first day, the deepest penetration achieved by Soviet troops was merely 10 kilometers On 15 and 16 May, Russian offensives restarted, meeting the same stiff resistance that had frustrated them in the first few days. To the south, however, Soviet troops were able to penetrate deeper into German lines.

On 17 May, the German 3rd Panzer Corps and 46th Army Corps commanded by von Bock, supported by aircraft, arrived, enabling the Germans to launch Operation Fridericus, pushing back the Soviet Barvenkovo bridgehead. On 19 May, General Paulus launched a general offensive to the north as Bock's troops advanced in the south, thus attempting to surround the Soviets in the Izium salient. On 20 May, the nearly surrounded Soviet forces mounted counteroffensives, but none of the attempts were successful in breaking through the German lines. The Soviets achieved some small victories on 21 and 22 May, but by 24 May, they were surrounded near Kharkov.
Ownership of Baiting the Bear is required to play Springing the Trap.
---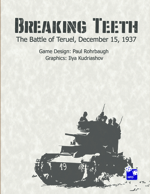 BREAKING TEETH
Battle of Teruel
December 15, 1937
The Republican cause was in serious jeopardy after a year-and-a-half of bloody fighting. Many felt it would take a miracle to rejuvenate an army that was barely hanging on in Madrid, and reeling from repeated Nationalists blows elsewhere in Spain. As winter settled in, the need for some sort of victory in the field was increasingly necessary as France and the Soviet Union began wavering in their support, and Great Britain stepped up its "blockade" that in reality only helped the Nationalists.
One of the most direct threats to Republican survival was the salient to the south of Madrid. Any further Nationalist gains in that sector could cut-off the capital's link to the rest of Republican-controlled Spain. With little to lose and much to win, General Enrique Lister's 11th Division was placed in the vanguard of the Republican counter-attack. Their goal was to take the key defensive position of La Muela de Teruel—Teruel's Tooth.