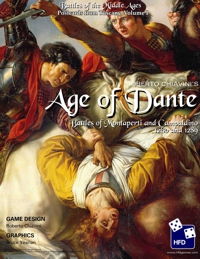 Two, 8½" x 11" maps


210

single-sided small unit counters



One, 4-page rule book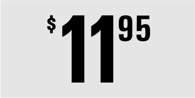 Shipping not included
Mounted counters are available for an additional $5
Game Credits:
Game Design: Roberto Chiavini
Editing: Paul Rohrbaugh
Graphics: Bruce Yearian
Playtesting:
Luca Bernardini, Brian Brennan, Andrea Chiavini, Luigi Caruso, Paolo Poli, and Paul Rohrbaugh

AGE OF DANTE
Postcards from Tuscany, Volume 1
The Battle of Montaperti, 1260
The Battle of Campaldino, 1289

Battle of the Montaperti, 1260: One of the last victories of the Ghibelline party, it saw the emergence of important personalities, like Farinata degli Uberti, one of the most famous characters from Dante's Inferno. For Florence it was a great defeat, but the events of a few years later at Benevento and Tagliacozzo were the definitive sunset of the Ghibelline party in all of Tuscany. A glorious victory for Siena against her eternal enemy, Florence, but of no great importance in the long view.

Battle of Campaldino, 1289:

It was only a minor battle, when compared with other battles of the medieval period, but it had Dante among the fighters on Florentine side and it was an important victory for Florence and the Guelph party.