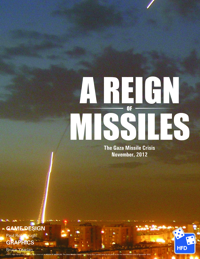 One 11" x 17" map
140 double sided unit counters
8 Page rules book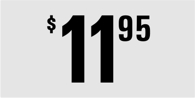 Shipping not included
Mounted counters are available for an additional $4
Game Credits:
Game Design: Paul Rohrbaugh Graphics: Bruce Yearian
Editing: Lisa Rohrbaugh and Zachary Waltz
Playtesting:
Brian Brennan, Rex Brynen, Curtis Hudson, Nils Johannson, Bill Kuhlfahl, Paul Rohrbaugh, Jack Scardina, Steve Schafer, and Zachary Waltz

A REIGN OF MISSILES
The Gaza Missile Crisis
November 2012
A Reign of Missiles is a low-complexity, solitaire simulation game of the Gaza Missile Crisis of November 2012. The player takes on the role of the Israeli military high command as it attempts to fend off the missile strikes launched by Hamas from Gaza.
The player is also attempting to manage the crisis in order to keep it from escalating into a larger and bloodier conflict that could engulf the entire Middle East. The game's rules control the actions of the Hamas forces in Gaza.