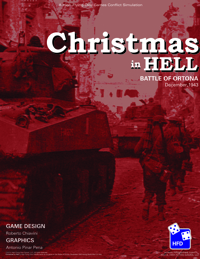 Two, 11" x 17" maps


420

single-sided unit counters



One, 6-page rule book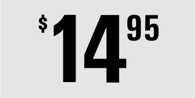 Shipping not included
Mounted counters are available for an additional $5
Game Credits:
Game Design: Roberto Chiavini
Editing: Lisa Rohrbaugh
Graphics: Bruce Yearian
Playtesting:

Brian Brennan, Luigi Caruso, Andrea Chiavini, Tony Morgan, Paolo Poli, Paul Rohrbaugh,

and

Daniel Rouleau





CHRISTMAS IN HELL
The Battle of Ortona
December 22-29, 1943

Christmas in Hell is a solitaire play game on the final days of the battle of Ortona fought from December 22-28, 1943. The battle for this small port city on the Italian Adriatic coast was waged by the remnants of some German Fallschirmjager (Paratrooper) battalions and two regiments of Canadian troops. It was among the most ferocious and insane city-fights on the Italian Front during World War II.
The battle was much more prolonged and bloody than the strategic importance of the city called for, but both sides used the situation to further their own personal ambitions. Hundreds of men on both sides paid the ultimate price for what many historians consider a futile and indecisive fight.
In this game, the active player takes on the role of the Canadian forces, sent inside a ruined city that is full of snipers, machine gun nests and booby traps. You are trying to do your best to avoid losses and take the city according to the High Command's schedule.