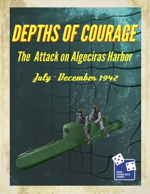 $7.95
does not include shipping

Game Design: Paul Rohrbaugh
Graphics: Dariusz Buraczewski
Playtesting: Brian Brennan, Nello Cozzolino, Paul Rohrbaugh, and Laurent Vesque

Mounted counters are available for an additional $5.00

One 11 by 17 inch map | 22 unmounted double-sided units | One, 6 page Rules Book



This is a solitaire game on the Italian mini-sub attacks at Algeciras Harbor.

Starting in December of 1942, and again in May and July of
1943, the Italians used an interned freighter, the Olterra, as a base from which their "frogmen" limpeters commandoes conducted daring
night-time raids against Allied shipping in the harbor near Gibraltar. The raiders' base of operations was never discovered until Italy surrendered on September 8, 1943. During the time they were active; the Italian commandos sank or severely damaged many Allied
ships, making them one of the most daring clandestine raiding forces of WWII.

The active player takes on the role of the commanders of the three or four, two-man crew S.L.C (siluro lenta corsa) Maiale (Pig) class
mini-submarines. You must endeavor to overcome the Allied defenses and night-time visibility to inflict as much damage as possible
before being killed, captured or escaping.