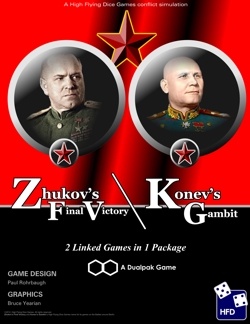 Game Components
Two
, 11" x 17" map sections
120 double-sided unit counters
12 Playing Cards
One Player Aid Card
One, 8-page rule book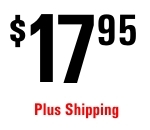 Mounted counters are also available for an additional $4.00
ZHUKOV'S FINAL VICTORY
KONEV'S GAMBIT
The Race for Berlin, 1945

Zhukov's Final Victory is a low complexity level, two-player wargame on the battle for the capital of Nazi Germany, Berlin. In mid- April of 1945, Marshall Zhukov's 1st Byelorussian Front was poised and amied like a dagger at the "Heart of the Fascist Beast" the city of Berlin, capital of Nazi Germany.

With thousands of tanks, artillery and soldiers available, the Russian Bear was determined to take the city and end the Great Patriotic War.

Konev's Gambit is an expansion game for Zhukov's Final Victory that extends play to include the offensive by Marshall Konev's 1st Ukrainian Front to take Berlin. Konev's Gambit is suited for two players, as well as solitaire play.

Both games combined allows for three players as participants to take on the roles of the German Army and the two Soviet Front commanders. The Soviet players will be seeking to not only defeat their German opponent, but see who can be the first to capture Berlin. Looming over all players is the will of the supreme commanders on both sides: Hitler and Stalin. Can you do as well or better than your historical counterpart?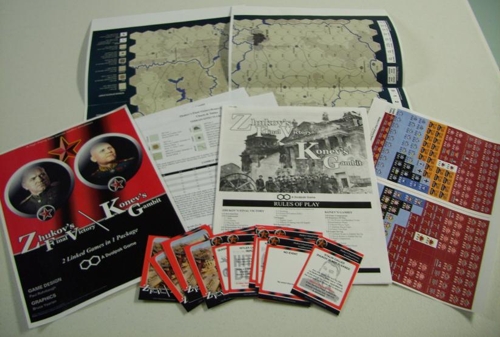 Sign up for the latest news and information on our line of games by joining our eList.