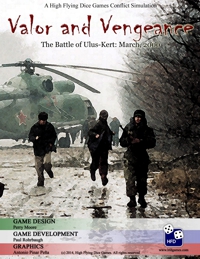 Game Components
Two 11" x 17" maps
384 color, single-sided unit counters
1 Player Aid Sheets
9 page Rules Booklets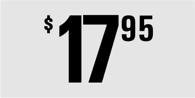 Shipping not included
Mounted counters are available for an additional $5
Game Credits:
Game Design: Perry Moore
Graphics: Antonio Pinar Peña
Editing and Development: Paul Rohrbaugh
Playtesting:

Brian Brennan, Robert Kruck and Paul Rohrbaugh

VALOR AND VENGEANCE

The Battle of Ulus-Kert
March, 2000

Valor and Vengeance is a two-playergame on the Battle of Ulus-Kert of the Second Chechen War.
Ulus-Kert is surrounded by extremely steep, mountainous terrain. The weather was cold, foggy and snowy. The Chechens planned to escape over the mountains using a main path that leads out from the town, through a gorge and over the mountains between Hills 776 and 787, and eventually into Dagestan. At Ulus-Kert, the Russian 6th Company, 2nd Battalion, 104th Guards Parachute Regiment sought to block the retreat route of these 2,000 lightly-armed Chechens. Supported by SU-25 aircraft, Mi-24 helicopter gunships, and artillery the Russians presumed superiority over a cunning foe. The Chechen force concentrated in the town of Ulus-Kert before taking on the Russians. This was an area the Russians dared not enter during the First Chechen War. This time, they wore bravery on their shoulders.