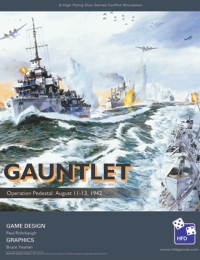 Game Components


One 11" x 17" maps


140 color, double-sided unit counters
1 Player Aid Sheets
8

page Rules Booklet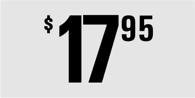 Shipping not included
Mounted counters are available for an additional $5
Game Credits:
Game Design: Paul Rohrbaugh
Graphics: Bruce Yearian
Editing: Lisa Rohrbaugh
Playtesting: Brian Brennan, David Deitch, Chris Nelson, John Vinal, and Jerome Weisen

GAUNTLET

Operation Pedestal
August 11-13, 1942

Gauntlet is a low to moderate complexity wargame simulation of this epic naval battle. An Axis victory would almost certainly have led the island's surrender and occupation, that conventional wisdom says may have reversed the tide of war in the Mediterranean and North Africa.
Allied forces in North Africa had just weeks before been sent retreating into Egypt following their defeat during the Gazala Campaign, and the island garrison of Malta was reduced to its lowest levels of food and munitions of the conflict. The Germans and Italians were very much aware of the significance and size of the Pedestal Convoy, as Axis spies in Spain and Egypt had kept them well informed of its progress. The stage was set for one of the most decisive naval campaigns of the war.