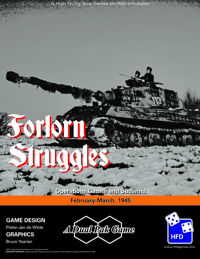 Game Components


One, 11" x 17" map and one, 8

½" x 11" map,
87 color, single-sided unit counters
2 Player Aid Sheets


Two, 4 page Rules Booklets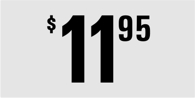 Shipping not included
Mounted counters are available for an additional $5
Game Credits:
Game Design:

Pieter-Jan de Wilde


Graphics: Bruce Yearian
Editing and Development: Paul Rohrbaugh
Playtesting:

Brian Brennan, Luc Olivier, Paul Rohrbaugh, Robert "Smitty" Smith, Mike Gallo, Dan Rygasewicz, Jack Stalica and Patrick Saumur

FORLORN STRUGGLES
Operations Gemse and Südwind
February-March, 1945
Forlorn Struggles is a DualPak game. It comes with two separate games in one package.
Operation Südwind is a two-player/solitaire game recreating the mid-February 1945 German offensive against the Soviet Bridgehead across the Garam River, in what is now southwestern Slovakia. It commenced on the morning of February 17. The German attack spearheads included a total of 44 formidable Tiger II tanks. Subsidiary attacks from across the Danube helped weaken the Soviet positions. 7th Guard Army defended stubbornly but was barely reinforced and by February 24th the Germans cleared the bridgehead. The Germans won a clear-cut operational victory but they incurred hard-to-replace losses. In the grand scheme of things Operation Südwind was a localized, and only temporary setback ,for the Soviets.
Operation Gemse is a two-player/solitaire game recreating the fierce early March German offensive in Oberlausitz and lower Siliesia against the unsuspecting Soviet 3rd Guard Tank Army commanded by General Rybalko. Securing Lauban and the surrounding area was deemed critical for a possible relief of encircled Breslau.
However the planned grand encirclement anchored on Naumburg soon proved too ambitious. Instead on March 5 the Führer-Grenadier and Führer-Begleit Panzer divisions completed their reduced pincer movement and met up in Sächsisch-Haugsdorf. By March 7th, the encircled Soviet 7th Guard Tank Corps was almost completely destroyed.